Features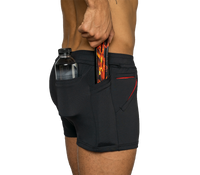 Fan/Sunglasses Pocket (v4 only)
Our patent-pending, extra-long pocket was designed to hold fans, sunglasses or other accessories.
Phone Tether Loop (v4 only)
An additional accessory loop located above the cell phone pocket allows you to easily tether your phone to your v4 shorts (v4 only).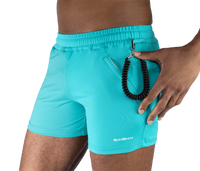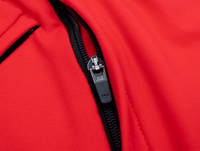 YKK Zippers (v4 only)
All v4 shorts feature YKK zippers, the world's leading zipper manufacturer.
Dedicated Cell Phone Pocket (v3 & v4)
No more leaving your phone on a table or the gym floor. The side phone pocket lets you sit or do a full workout without removing your phone. A pocket cover keeps your phone in place.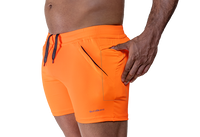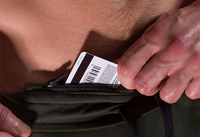 Hidden Interior Pocket (v3 & v4)
An inside, zippered pocket is designed to fit multiple cards or items, including your ID, credit cards, fob, or access cards (or all of them).
Water Bottle Pocket & Accessory Loop (v3 & v4)
The back pocket was perfectly designed to hold water bottles, and all shorts have an exterior accessory loop that also doubles as a shirt securing loop.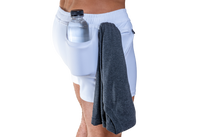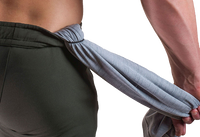 Keep your Shirt Ultra Secure (v3 & v4)
The interior elastic band will keep your shirt in place when you're on the go.
Zippered Front Pockets (v3 & v4)
Deep, zippered front pockets to hold your largest items.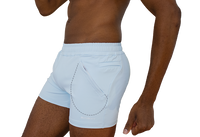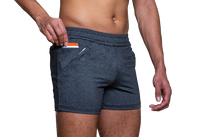 Horizontal Pocket (v3 & v4)
The size of a credit card, this zippered, horizontal pocket also keeps smaller items, like headphones or AirPods from falling out, unlike vertical pocket openings.
Accessory Loop (v3 & v4)
The external accessory loop can be used to clip on any item or hold a shirt.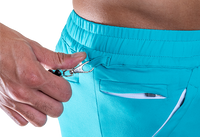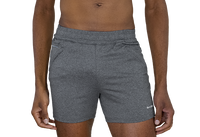 Mid-Length Shorts
Our relaxed-fit Mid-Length Shorts have all the features of our v3 shorts!
Match any occasion.
With more than 20 colors and 10 patterns available, you'll be sure to find the perfect pair.
View All Shorts